CLINIQUE LASH BUILDING PRIMER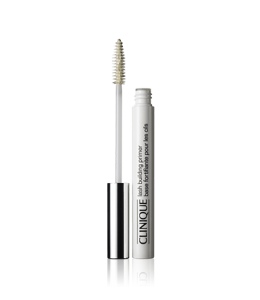 This is maybe not the strict eyelash serum but rather conditioner but it works fine as the mascara base. We all know how damaging the mascara can be. Especially the waterproof ones contain many chemical ingredients that harm our lashes day after day. It is great if we can prevent that from happening so that our lashes can grow long and healthy. The Clinique Lash Building Primer has a wide brush that can easily grasp even the smaller lashes and cover them with an invisible layer of nourishing eyelash serum. The product is oil-free so we are sure that our mascara will not smudge or disappear after a few hours. The Clinique Lash Building Primer also prevents mascara from flaking off and drying.
It separates lashes well and it adds extra thickness making eyes appear bigger and brighter.
PROS
Holds the mascara well
Nourishes and strengthens lashes
Easy application
Adds extra volume
CONS
Expensive