M2 LASHES Eyelash serum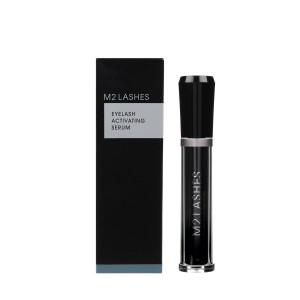 The next eyelash serum worth recommending is M2Lashes. The producer proudly states that the M2Lashes contains mysterious MDN (methylamido-dihydro-noralfaprostal)-a specially adapted ingredient for cosmetic applications from ophthalmology This product can make lashes longer and stronger. M2Lashes has a small brush that works like an eyeliner. This is one of those eyelash serums that do not work the same on two different people. I have noticed that my lashes have grown a bit after using M2Lashes for three months whereas my my sister who was using it at the same time did not see any difference in length.
There was no effects for the first two months and I think that the M2Lashes serum takes too long to show its potential.
Not many people are so determined and patient to carry on with the eyelash serum treatment for that long without any results. In the 9 week into my M2Lashes treatment, I have noticed that my lashes were stronger and less of them felt out when I was removing my make-up. If you are unhurried, you can give the M2Lashes a try.
PROS
Lashes longer and stronger
Nice package
CONS
Expensive over £90
You need to wait long to see any results
Available only online