NO7 FANOMENAL Eyelash serum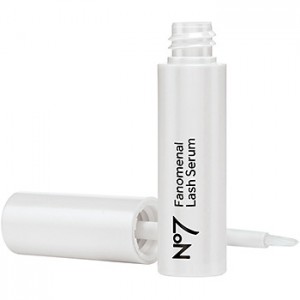 One of the most popular British company No7 has recently released its eyelash serum that can be purchased at Boots chain stores. To start with, the package does not look phenomenal at all. It is a plastic white tube, which is a big disappointment considering that almost all NO 7 beauty products look classy and elegant. The tube is plain white and it has a pointy brush that in my opinion is a bit too wide and thick.
The eyelash serum should have small applicator so that we can easily and precisely draw the line on the lash roots.
The great thing about No7 Fanomenal Lash Serum is the fact that we get 6 ml of the product, which doubles the amount we get in most of the eyelash serums. It has a liquid consistency and it lasts well over 4 months if used every day. My clients use it very often, as it is affordable and available in any local beauty shop. Does it bring the results we all want? Lashes are definitely stronger and healthy looking. Lesser of them fall out so they appear thicker and denser. No7 Fanomenal Lash Serum does not make eyelashes grow extremely long but on average lashes become 2mm longer than before starting the treatment. Taking into consideration that there is plenty of the product in the tube No7 Fanomenal Lash Serum sounds like good eyelash serum.
PROS
Makes lashes stronger and shiner
Less prone to breakage or premature shedding
Affordable Price
Easy availability
CONS
Not much of lengthening effect