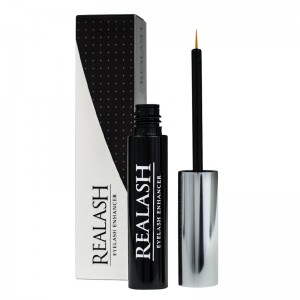 REALASH Eyelash serum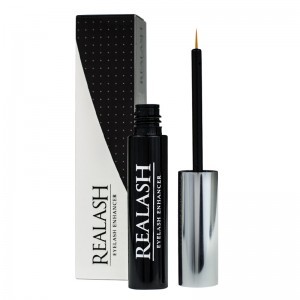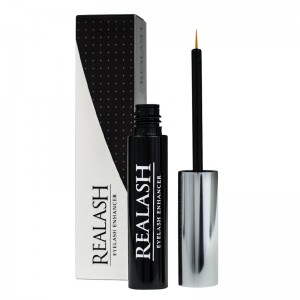 When the clients ask me for a product that will slightly extend the lashes, then I say: 'Give a try to Realash.' Although the eyelash serum may discolour eyelids a little bit, and the possibility is not mere, Realash is able to moisturize eyelashes greatly. I like also the effect of curled lashes that Realash generates. A little bit extended, deeply moisturized and curled – this is how my clients lashes look if they decide to undergone Realash eyelash serum treatment. And while writing about the treatment, it lasts approximately a month and the bottle contains enough amount of liquid to conduct even the outcomes supporting applications.
Despite all the positive sides, there is only one thing that really grinds my gears.
Because of the water-like consistency of Realash, it is hard to keep the eyelash serum on the eyelid. It simply runs down and gets into eyes. Sometimes, I lost a few drops from the applicator before I managed to put it onto an eyelid. Basically, the price might also be a little bit lower.
Realash Ingredients (INCI): Aqua, Propanediol, Panthenol, Glycerin, Biotinoyl Tripeptide-1, Acorus Calamus Root Extract, Acrylates/C10-30 Alkyl Acrylate Crosspolymer, Calendula Officinalis Flower Extract, Dechloro Dihydroxy Difluoro Ethylcloprostenolamide (Ethyl Tafluprostamide), Disodium EDTA, Ethylhexylglycerin, Equisetum Arvense Leaf Extract, Hydrolyzed Silk, Linum Usitatissimum Seed Extract, Phenoxyethanol, Propylene Glycol, Serenoa Serrulata Fruit Extract, Sodium Hyaluronate, Sodium Hydroxide.
PROS
A few millimetres extended eyelashes
Moisturization and eyelash curl
Effectiveness
CONS
May discolour eyelids
Too liquid consistency

High price