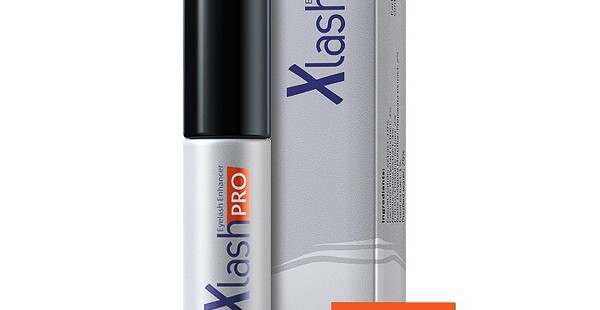 XLASH PRO Eyelash serum
Xlash Pro eyelash serum is poured into a slender bottle of 3 ml capacity. Such an amount lasts for five months of the treatment. During its course, eyelashes are supposed to become longer, thicker, stronger and nourished. When it comes to the application, it reminds using a regular eyeliner.
The first effects of Xlash Pro treatment are observable after three or four weeks. In turn, the final outcomes can be noticed after four months. As soon as sixteen weeks pass by, Xlash Pro can be applied a few times a week. The product is recommended especially for those who want their eyelashes to be healthy, long and pretty. Unfortunately, not everyone is destined to benefit from Xlash Pro eyelash serum – the treatment is not advised to be undergone by people who have not reach maturity, allergic sufferers and well as women who are either pregnant or breastfeeding.
How to apply Xlash Pro eyelash serum?
First of all, each and every application should be proceeded with hand washing and make-up removal. Obviously, special attention should be given to eye skin area since only cleansed skin provides the best surface for the eyelash serum to get absorbed and start affecting eyelashes. Secondly, if it happens that the consumer is a contact lenses wearer, then these should be taken off. After around 15 minutes of Xlash Pro application, the contact lenses can be reinserted. Since the bottle is full of the cosmetic, it is advised to pull the applicator out very gently and carefully. When the brush is out of the bottle, that it should be used to distribute the cosmetic along the upper eyelash base. There is no need in applying Xlash Pro on the lower eyelash base since the cosmetic reaches the place during sleep.
During the course of the treatment, the consumers may suffer from stinging and redness of eyeballs. What is more, after several applications, one can also notice a bright purple string on the very place where Xlash Pro is put on. If it happens that the product gets into eyes, one has to react quickly by rinsing the eyes with fresh water. If the irritation does not wear off, it is suggested to discontinue the treatment. In most serious cases, for example, when the discomforts become stronger, it is necessary to consult either a dermatologist or an optician immediately.
Pluses:
Effectiveness
Recommended for contact lenses wearers
Gives minor effects
Minuses:
May irritate
One has to wait long for obtaining effects
The eyelash serum may spill out if opened carelessly